Flight to Amsterdam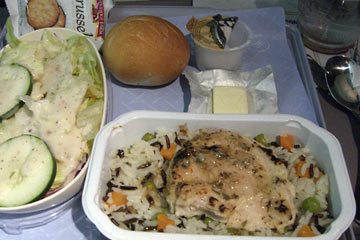 OK, so it's not gourmet quality, but this meal that I got on the Continental flight to Amsterdam was decent. The chicken, rice & veggies tasted good and probably had some nutritive value, same for the salad.
Even in these times of cutbacks everywhere in the airline industry, I appreciate Continental's attempt to offer more than the minimum—note the real silverware, not plastic. And since it was a 7-8 hour flight, we even got a light breakfast in the morning.
Of course none of this food fit the approach laid out in the book I was reading, Barbara Kingsolver's Animal, Vegetable, Mineral: A Year of Food Life.
The book is a well-documented and funny—not preachy—argument for the vastly superior quality of food grown locally as opposed to shipped from halfway across the world. I enjoyed every minute of reading it, and have already begun to think and act differently about what I eat. If you eat, you should read this book!
Top | |