JUNE 30, 2010
Looks good, tastes great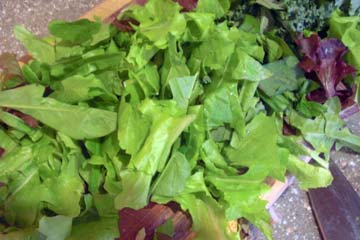 When you start with a pile of fresh-picked greens—lettuce, arugula, kale, and a few leaves of basil—it's hard to not end up with something tasty and beautiful at the same time.
With the help of a simple recipe from the New York Times via today's Plain Dealer, a package of peas from the freezer. and roasted red pepper pasta from Ohio City Pasta at the West Side Market, this colorful pile of greens became an even more colorful supper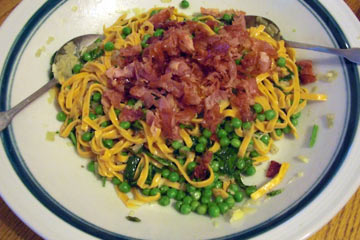 for Joanne and me.
After braising it in a bit of chicken stock, the lettuce has nearly disappeared but the peas provide plenty of green.
The garnish is crispy fried strips of thinly-sliced ham, not the prosciutto called for in the recipe, but what I had in the fridge instead. I used leftover garlic-basil butter I'd made yesterday on a few slices of toasted bread...yum!
Somewhere recently I read that the color, shape and textures of vegetables are far more attractive than meat, another argument for a vegetarian diet. Today's meal made me a believer.
Recipe
Pasta With Peas, Prosciutto and Lettuce, from the New York Times.
Top | |