DECEMBER 14, 2009
Not your typical cup of tea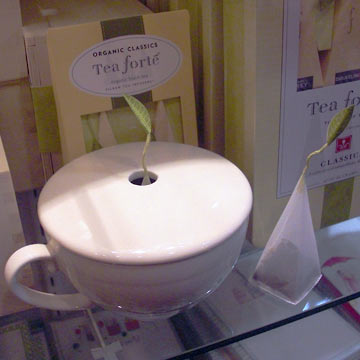 This has got to be the world's cleverest tea cup/tea bag combo. You put the pyramid-shaped tea bag—oops, I mean infuser—in the cup, add boiling water, and top it off with the cup's special lid. You end up with this whimsical sprout. How cool is that?
You may not want to slurp this stuff down every day, with the tea bags selling for $2-3 each (the cup and lid is $25), but...
If you need a special gift for that special tea (or design) fanatic, this is it.
I spotted this beautiful piece of design at the aptly named Something Different Gallery on West 25th St., north of the West Side Market. You can find a wide selection of teas, other cups and teapots at the Tea Forté website.
Top | |