JANUARY 25, 2010
Mapping the design process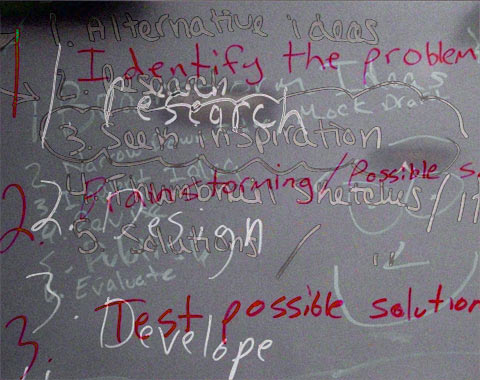 It's not too often that we have the luxury in a Visual Communication & Design class to look at the big picture.
There's usually so much to be done in meeting a list of learning objectives that it's easy to get caught up in the specifics.
That's one of the reasons why I've come to appreciate a class called Media Design. The course description spells it out: "Comprehensive media course from initial concept to presentation."
In other words, the whole nine yards. What a great opportunity to talk about design in various forms, from different perspectives and from start to finish. It's a class about process more than product.
Today I asked four groups of students to list a 3-5 step process that they would use in starting a design project. Each had a whiteboard to write on, and I've overlaid the four lists above. Two groups thought it best to dive right in: "Brainstorm" and "Alternative ideas". The others opted to "Research" or "Identify the problem."
We'll spend most of the semester trying to move everyone into the "Identify the problem" camp for a starting point. It's too easy—but short-sighted—to start brainstorming or sketching ideas before you've figured out the problem. A client may think they need a website but their actual goal is to sell more widgets. A designer who takes the time to research the client, the market, the target audience, the competition and the available solutions may realize that a website won't solve the problem. Or if a website is the best solution, a clear understanding of the problem should lead to a better, more effective website.
We're using the book Hot-Wiring Your Creative Process: Strategies for print and new media designers
by Curt Cloninger as a guide. The author explains his approach to the design process (predesign, design, development and implementation) and explains approaches used by others as well.
Top | |