Strange, human

Back at the Cleveland International Film Festival on a jam-packed Saturday night. The lobby between films was a slow-moving glacier of people. The films I saw were both strange, sometimes disturbing, but very human.
The first told the story of Mark Hogencamp, whose brain was damaged when he was severely beaten by five men outside a bar. After leaving the hospital he figured out his own route back to safety. He built a miniature city in which he, his friends and neighbors lived in the form of dolls. Think Barbie and GI Joe, but much more realistic.
In addition to creating elaborate scenes in which his World War II fighter pilot alter ego fought the Nazis and romanced the ladies, Mark began photographing them. His photos, amazingly realistic and dramatic, eventually caught the eye of an art dealer who organized a show in Greenwich Village.
Near the end of the movie Hogencamp has to decide whether he will live in the real world, or the world he has created. No easy answers.
Imagine life inside the Muslim-punk-rock-skater scene. If loud, crazy and contradictory as all hell come to mind, you know what this movie is about.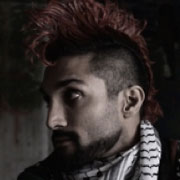 A group of young Muslims, including strikingly intense and charismatic John Gear, struggle with America, tradition, and themselves. They're loud and obnoxious. They're thoughtful and loving. They're confused.
I have no idea how believers might react to this movie, but it made me reconsider my assumptions about what it means to be a Muslim.
The fact that The Taqwacores was filmed in Cleveland, some scenes about a half mile from my house, made it even more interesting.
Top | |