JULY 2, 2010
Presidential fare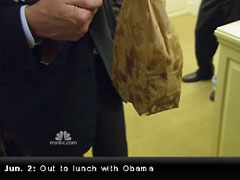 Today I had my first Five Guys cheeseburger, the one with the presidential seal of approval.
I expected my $4 "little" burger to be meaty, juicy and flavorful. It was none of the above, unless you count greasy. At first I thought it tasted better than one from Mickey D's, but about halfway through the thrill was gone.
Most of the flavor came from the toppings—I had grilled onions, mushrooms, and green pepper, in addition to the usual lettuce and tomato.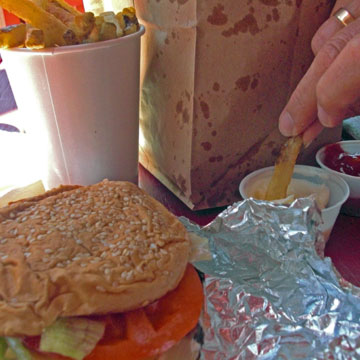 The fries were undoubtedly fresh, but oddly flavorless and not particularly crispy. They were, however, greasy, a badge Five Guys proudly displays by packaging your food in brown paper bags.
A friend suggested that maybe my taste buds have been recalibrated by all the vegetables I've been eating, and he may be right.
If this is the best the burger world has to offer (as suggested by the many restaurant reviews plastered on the walls at Five Guys), I think I'll stay an outsider.
Any other opinions of Five Guys? Add your comment below.
PS: Why we're obese
The friendly guy behind the counter pointed out that I'd get only 12 oz. of lemonade for $1.79, but if I paid a dime more I'd get twice as much. I didn't really want that much lemonade, but the economics made me feel I'd be stupid to pay so much for the smaller cup. So I got the big one and drank way more sugary stuff than I wanted.
Add that to 550 calories (290 from fat) of the burger plus 310 (130) from the fries, and it's no wonder that several hours later I was regretting my lunch choices.
Top | |