MARCH 12, 2010
Changes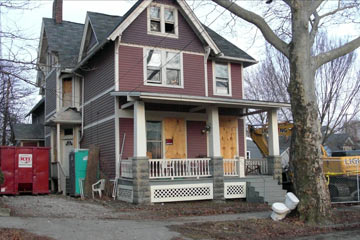 After the boarding house fire that damaged our neighbors' house too, this part of the street has been looking pretty grim. A pile of charred rubble and a damaged, boarded up house. It's been quiet, but not in a good way.
I'll admit to a couple of sleepless episodes picturing another fire set in either of the places. We toyed with the idea of buying the house ourselves, but it was a bigger project than either Joanne or I wanted to take on.
So we're happy that a young couple with two small kids are renovating it. Today they moved in the third big red dumpster to hold the debris they're pitching out as they gut the interior. They're planning an energy-efficient, green rehab.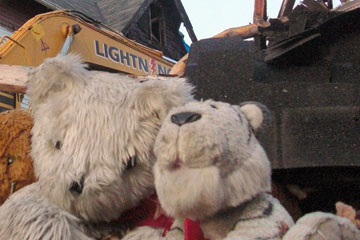 At four o'clock this afternoon a flatbed tractor-trailer unloaded a power shovel and they began knocking down what was left of the boarding house.
An hour or two later there was a big pile of charred lumber and a few teddy bears that had been part of the impromptu memorial to the four people who died in the fire.
This is all good, I guess, but I can't shake a feeling of sadness too. The old neighborhood, frayed around the edges, sometimes rough and rowdy, but often warm and friendly, is nearly gone. The new version will be cleaner, quieter, and prettier I'm sure. Better? I don't know.
Top | |