APRIL 1, 2010
New look, new management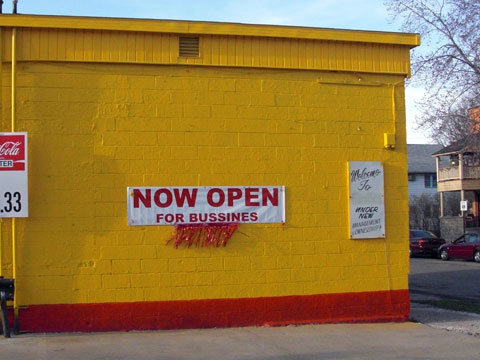 The on-again, off-again gas station at 48th and Bridge is now painted yellow and red and is OPEN FOR BUSSINES.
This is something I love about the Near West Side that I fear would disappear if "Ohio City" ever were to succeed.
I love our mix of funky, shabby and classy—people, houses, and businesses.
I'd hate to see it get homogenized into a Disneyfied zone of quaint century homes like German Village in Columbus. When I think "Ohio City"* this is what I see.
For now, at least, the Near West Side is still thriving.
* A bit of history:
When we moved to the neighborhood in 1972 it was known simply as "The Near West Side." Some years later a group of residents began lobbying for a new name, the historically accurate "Ohio City" (in the 1800s the area was its own city). The new-old name was a marketing strategy to make the neighborhood sound cooler. As I recall the name change idea began during the Kucinich administration, a time when neighborhood social activists and restoration buffs were on opposite sides politically. As far as I'm concerned, it's still the Near West Side.
Related
A scene in the movie The Taqwacores was filmed at this gas station in one of its earlier incarnations.
Top | |