MAY 15, 2010
Inspiration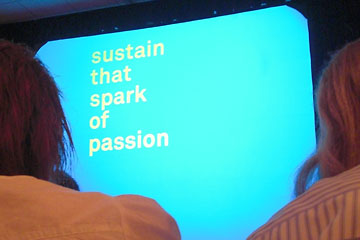 Rick Valicenti had much more to say today when he kicked of the first day of the AIGA Design Educators Conference in Toledo, but this was the core of it.
The slide before was "Find your spark of passion."
This is the same message that I try to send to my students, probably with little success. It's what successful designers everywhere agree on: you've got to love the work, or you're not going to get very far.
Rick has taken this advice far more seriously than most of us mere mortals. His work is intensely personal and innovative. I left his talk simultaneously inspired and depressed. He makes it look so easy. It's damn hard.
More
→ Full report on the conference (May 17)
→ The question it made me ask (May 18)
Top | |