APRIL 22, 2010
Stripped bare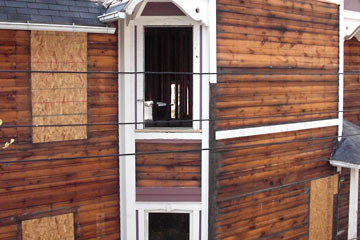 The house next to ours was damaged when the house next to it burned last Fall, and finally new owners have started rehabbing it. With a vengeance.
After weeks of demolition nothing is left but the bones of the original house.The interior is completely gutted, all the windows have been removed, and surprisingly the exterior siding has been stripped off. All that's left is the framing, roof and the original sheathing.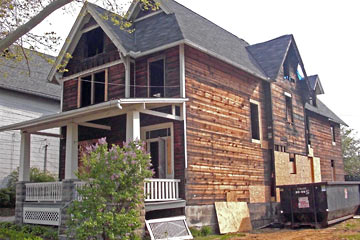 What the new owners have told me is that they are doing a Deep-Energy Retrofit. This typically involves adding a layer of foam insulation, probably 4" thick, to the exterior walls. This would explain why they stripped off exterior siding that was in pretty good shape.
(Mouse over the image to see what it looked like a few weeks ago.)
It will be an interesting design/construction challenge to do build out all the walls without significantly changing the appearance. Because we're in a historic neighborhood, that would be a no-no. Stay tuned for progress reports.
Top | |