JANUARY 27, 2010
What do employers want?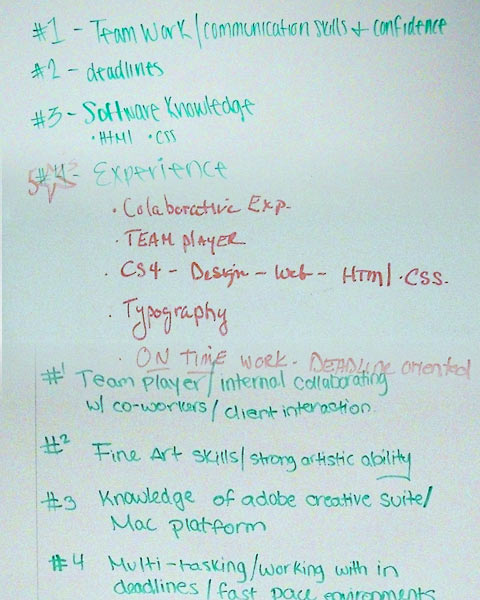 If you believe what they say in their job postings for graphic/web designers, it's something like the list you see here.
I challenged my Portfolio Preparation students at Cuyahoga Community College to find interesting design jobs listed on career websites like Coroflot, Behance Network, and Creative Group.
In class tonight they worked in small groups to find the abilities, skills, and other factors that cropped up most often in the job listings. I've taken each group's list and merged them into this composite.
I think it surprised us all to see teamwork / collaboration at the top. Less surprising are the two "tool"-oriented items: Adobe Creative Suite (or CS4) and HTML/CSS.
For designers, Adobe Creative Suite is like Microsoft Word for writers: it's the tool everyone uses. On the Web side, more and more designers are now expected to be fluent in the underlying language of the Web, HTML and CSS. A few years ago we might have seen Dreamweaver listed here, but it seems that employers are learning that it's more important to really understand how web sites and web pages are put together than to simply use a software authoring tool like Dreamweaver.
Top | |