MARCH 4, 2010
Meanwhile...
Updates on recent items
TEDxCLE
Still ignored by the Plain Dealer/Cleveland.com.
But, the talks are available on the TEDxCLE website. Almost as good as being there! Don't miss Patrick Perotti, Terry Schwarz and TheEyeWriter. Those I'm looking forward to watching: Michael Ruhlman, Danielle DeBoe.
HIV Positive
When I signed up for the Help Fight HIV Stigma in Cleveland event on Facebook on couple of days ago I was one of 105 participants. As of Thursday night the total is 218, and I expect that by the event date of March 26th the number will be close to 500. That's a good thing.
Eating better
Joanne and I decided to make the month of February meatless. We tried to only cook and eat vegetarian meals. Why? A variety of reasons: better for your health, better for the environment, better for animals. I've been heavily influenced by Michael Pollan's books on food, and since I've been raising more vegetables myself have noticed that they seem to taste better.
Understanding music
I just finished listening to Lecture 8 of the Fundamentals of Music lectures-on-CD series, and I'm not as enthusiastic as I was a week ago. The last few lectures on pitch and meter have been pretty tough for me to understand. The earlier lectures, especially those on instrumental timbre, used music clips frequently to demonstrate the ideas. The pitch and meter lectures are more words, less music.
I have to say that at this point I'm not sure why learning the (to me) convoluted organization of pitch and meter is important to understanding music. Robert Greenberg, the lecturer, hasn't explained why I should slog through this highly technical material. The things he did so well in the earlier lectures—humor and interesting digressions like "Is the triangle player paid as much as the rest of the performers?"—have been overwhelmed by explanations of pitch collections and intervallic profiles.
Hope they come back soon.
Portfolio Show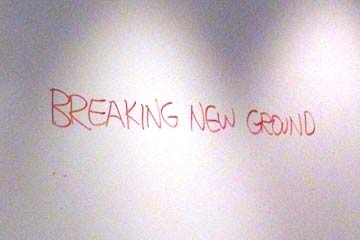 After much brainstorming and discussion, this year's Tri-C West VC&D Portfolio Show theme will be Breaking New Ground.
Next week is Spring Break, so we have to go full speed ahead with preparations as soon as we're back: publicity, website, event planning, invitations, etc.
Top | |