JANUARY 5, 2010 More below: CREPE
Customer service
We all have horror stories to share about lousy customer service: slow, rude, incompetent or all of the above. My worst experiences were with our local transit provider, RTA, and Whirlpool, the maker of my problem-plagued water heater.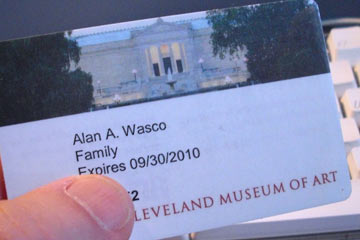 Today I had a great customer service experience with the Cleveland Museum of Art. I'm happy to add them to the short list that includes web domain giant GoDaddy.
Here's what happened: earlier in the month Joanne and I went to the art museum, got tickets to the then-current Gauguin exhibit, and also bought two tickets for a museum-sponsored concert in January.
Yesterday, with the concert just a few days away, I couldn't find the tickets anywhere. I tore through the house looking for where I'd cleverly put them for safekeeping. The conclusion I reached after a couple of hours: I'd thrown them out because I confused them with the (used) tickets for the Gauguin exhibit.
This morning I steeled myself for a phone call and marshaled my resources: Museum of Art membership card, VISA statement showing the purchase, phone numbers for the Museum box office and membership office. I planned my strategy: I was a long-time member, the tickets all look alike, cut me some slack just this once for losing them.
I dialed. I waited for the voicemail system to let me ask for a real human person. I was on hold for a couple of seconds, then a voice offered to help. I explained the situation. The instant response: "I'll reprint the tickets and they will be waiting for you at the box office. You're good to go."
Thank you, Cleveland Museum of Art. That's the way it's supposed to work.
CREPE, REVISITED
A few days ago I wrote about my disappointment with a crepe I bought at the West Side Market. I got a quick reply from the stand's owner, Bob Holcepl. Here's his explanation and my response. You'll just have to try them yourself, I guess.
BH:
I am the owner of crepes de luxe.
I just wanted to clear up a few things.
First, the quebec is made with a buckwheat crepe, which is 'chewy' by nature, this is the way it is done in Brittany where crepes are from. most of our sweet crepes are with white flour which is sweeter as you prefer.
Second I assure you we use real BUTTER (not oil) to cook our crepes, very expensive butter from Normandy in fact.
Third i am confused by your comments regarding the 'style' that the crepe was made, it is not jazz, it is not art, it is a craft, quick and functional is the way it should be.
Last it is obvious our crepes will never compete with your memory of the 'perfect crepe in Paris'. I am sorry about that, but our many French customers like them as well as hundreds of others.
Sincerely
Bob Holcepl
President, Crepes de Luxe
AW:
Thanks for the clarification. Seems odd to me that you use buckwheat for the crepe described as "Sweet, " but that's your call. I apologize for my incorrect assumption about oil vs. butter. I was going to guess that the "maple syrup" was not real maple syrup but perhaps I'd have been wrong about that as well. I will say that the maple flavor was underwhelming.
As for "quick and functional" we're going to have to disagree on that. I've seen many craftspeople at work whose love for the task shows in their every motion. I didn't see that at Crepes Deluxe.
You're right that nothing will complete with my perfect crepe memory. It's a high bar to reach. On the other hand, a bit more honesty would help me rein in my expectations: "whipped cream" not "maple chantilly" for example.
I appreciate local businesses, especially those at the West Side Market which I visit weekly. I get a City Roast cappucino most days because it's a great cappucino. I wish I could say the same about the crepes.

Al Wasco

Top | |