FEBRUARY 10, 2010
The joy of learning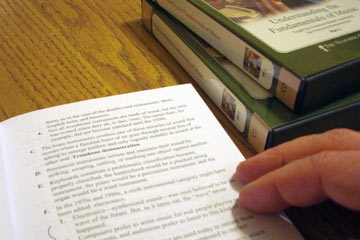 I listened to the sample lectures from The Teaching Company that came in the mail a couple weeks ago. One was about how our brain works, the other on the way language changes over time.
Even though I wasn't particularly interested in either topic I enjoyed both lectures. And part of the recorded sales pitch really hit me: remember when learning was fun? When you got excited because were learning about something you cared about?
So I ordered the 35-lecture set Understanding the Fundamentals of Music (on sale for $40). When I tore open the FedEx package that arrived today it felt like Christmas. I pulled out the booklet that goes with the CDs and began reading. Even made notes in the margins of questions I hoped would be answered. I felt like a student again, like when I took History of Graphic Design in grad school at Kent. I could hardly wait to read the textbook so I could learn more.
That was today, anyway. The CDs are going into my car so I can listen on my daily commute. I'll tell you how it goes in the next few days.
Top | |