DECEMBER 10, 2009
Wrapping it up
Today was the last class for Intro to Visual Communication and one of the Web Publishing I classes. Some highlights below.
Intro to Visual Communication
Most of these students are just starting in one of our Visual Communication & Design majors. Might be Photography, Digital Video, or Interactive Media. Or occasionally another major altogether. This semester the final project was to write a brief essay about what visual communication means in their lives, then express it in any visual format.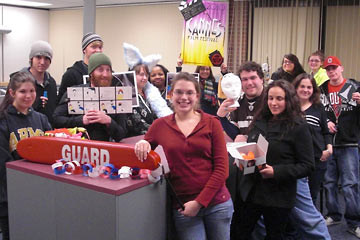 Here's the crew, many holding their final projects. There were posters, photos, storyboards, 3D objects of all sorts, and at least one person with fuzzy ears.
David Timko (back row, second from left) did the animation you can watch below. It was his first try at using Adobe Flash and he learned a lot on the way to producing this amusing look at a world without visual communication. And yes, we're working on the audio issue.
Web Publishing I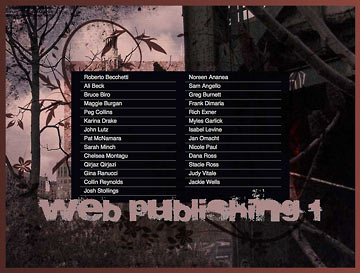 The class decided to create websites about food for their final project. You can see them online at our class website.
Go to the class homepage and look at the list of names on the right. Click on any one to go to that student's homepage. Look for a "Final Project" link that will take you to their food website.
They are all worth a visit, but some of the hits from last night were Stacie's White Trash Cooking, Dana's Easy as Pie, Jan's Seasonal Fare, and Jackie's Sweet Ideas.
If home cooking isn't your thing, Rich's Distinctively Cleveland will point you to unique neighborhood restaurants all around town.
A note about the class
Web Publishing I is the entry-level class in the Interactive Media program at Cuyahoga Community College. In this particular group several students were already accomplished designers, but for all of them this was their first shot at web design. They hand-coded their sites (not Dreamweaver!) using XHTML and CSS (no tables for layout!). They also considered searchability, usability and web standards in their design. I'm very proud of what they accomplished.
Top | |