JANUARY 3, 2010
2009: Top Ten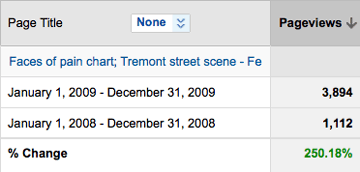 Flop or hit? I've never been able to predict which articles will attract viewers and which won't. In fact I'm usually dead wrong.
A photo I casually took while waiting for my doctor to show up (the Wong-Baker Pain Chart) was popular in 2008 and zoomed to the top for 2009.
The David Carson/LeBron star duo lost a bit of its shine, but UFOs took off this year, not to mention the Amish Heat Surge mantle. Here's the list; if you have a favorite you don't see here, tell me by clicking Comments at bottom.
1 - Faces of pain chart; Tremont street scene - February 22, 2008 (3)
2 - Why argue with success? - July 3, 2009
3 - David Carson; LeBron Etch A Sketch - June 14, 2007 (1)
4 - Lake Erie UFOs - Mar. 2, 2007
5 - Graffiti, near Train Avenue - May 21, 2009
6 - Amish Heat Surge mantle - February 22, 2009
7 - Shepard Fairey: is it plagiarism; Obamacize yourself - January 22, 2009
8 - About: The View From 32 (7)
9 - Cleveland: If only... - January 3, 2009
10 - Package pornography: sexy water bottle - Aug. 9, 2008 (2)
More numbers

The good news: more visitors looked at more pages.
The bad: each person looked at slightly fewer pages for slightly less time.
Visits: 16,596 (+39%)
Unique visitors: 13,620 (+45%)
Pageviews: 35,181 (+36) | Most pageviews in one day: 556 (June 3, 2009)
Pages/visit: 2.12 (-2%)
Avg time on site: 1:09 (-23%)
Most frequently searched: "heat surge amish scam", "al wasco", "pain chart faces", "smiley face pain scale", "smiley face pain chart", "pain chart with faces", "pain chart 1-10", "pain chart for children", "a view from 32", "faces pain scale 1-10"
What's the point?
I have mixed motives in creating this website. In part it's simply an online journal that I do for myself. At the same time I like to think (hope) that others will find it interesting, helpful, occasionally funny or inspirational. I'm encouraged when the numbers go up, thrilled when someone takes the time to add a comment or send an email.
At an hour or more each day the time I spend on it is significant, and there's no financial return. The only income potential is from the Amazon links to books I mention. Last year my total commission on book sales was $1.28.
But what the heck, it's fun (mostly). Hope you enjoy it. Happy 2010!
Top | |