MAY 10, 2010
Food, fun & media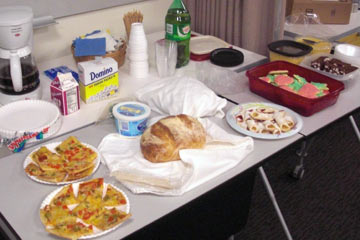 It was the best end-of-semester potluck ever. I often invite students to bring refreshments to the final class. Usually we're just looking at their final projects, so it's nice to have a more informal, sociable atmosphere.
This semester's Media Design class set a new standard for food...and for sociability.
What you see here was all made by class members. There's homemade bread and pizza to start, with kolachi, sugar cookies, fudge, and mango pudding for dessert. A few minutes after this picture was taken Erika walked in with a big pot of chicken paprikash to give us the most varied and tasty feast ever.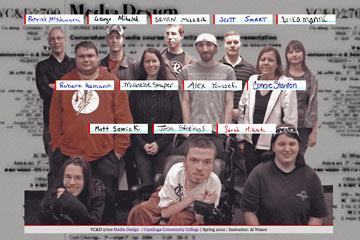 I didn't plan it this way, but making the final project a "How-To" website led to this array of food on the table. If it looks good, you can get recipes by going to each student's website from the class site shown here.
Not only will you find dinner and dessert recipes, you'll learn how to play a videogame, make a web page, work with graphics software, dry out a wet cellphone, remodel your bedroom and make a fabulous maze for your kids out of cardboard boxes.
For the secret to my pizza, look here.
A technical note
The student websites range from quite accomplished to very basic. You'll find a number of technical glitches that may make you scratch your head. I wish we could have gotten the bugs worked out, but despite that I'm happy with the results. Here's why:
This was not a web design class. If it was, we'd have approached things differently (and the technical issues would make me crazy). Media Design is about how to design for digital media. We stressed thinking, process and teamwork more than learning software or code. We did a lot online via Google Groups, and tried to incorporate aspects of video games (see Putting the Fun in Functional).
I hope that you'll see evidence of this in the student sites. The evidence of the value of the time we spent working together came in a flurry of postings on the class group site right after our last class:
- Everyone, I really enjoyed this class and wanted to say thank you and wish you good luck.

- Yes, the class was fun. I enjoyed spending 16 weeks with you guys—lots of laughs, good ideas, and interesting discussions.

- I learned a lot that I will take with me to my future career. Al, thanks for hammering away at us for our own good. Also, I had fun getting to know all of you in class.

- yea this class was a blast! there were some interesting projects and I think they all turned out great. This was one class I enjoyed coming to. Hopefully we will see each other in the future.

- I really enjoyed coming to this class as well. The time flew by when I was here, and enjoyed everybodys company.
Sounds good to me.
Top | |