DECEMBER 19, 2009
Ducks & teapots
I like buying gifts but I hate Christmas shopping. There's always that feeling that you have to buy something and it has to be perfect for each person or you've failed your duties as a child / spouse / parent / grandparent. Too much pressure.
If I were a better person I'd make thoughtful hand-crafted items filled with love and creativity for everyone on my list. I think about that a lot, but after the Chex mix debacle I'm not as motivated. (One year I made two kinds of Chex mix, sweet and traditional, and packed it in glass containers for various family members. I guess no one likes Chex mix except me.)
Low-stress shopping
So we're buying gifts again.
One way we've found to reduce the pressure is to shop at museum stores. The stuff they sell is different from what's at the big stores, so you'll find unique gifts. You don't have to fight the crowds at the mall.
Then too, the money goes to a good cause, so it's easier to stomach the too-high prices. At least you're helping a non-profit, not adding to Target's bottom line.
If you liked the fancy tea infusers and cups I mentioned a few days ago, we found a much bigger selection of cups and teapots at the Cleveland Botanical Garden gift shop. They also have wonderful hand-made soaps, botanicals, books and high-end garden supplies.
Dinosaurs & ducks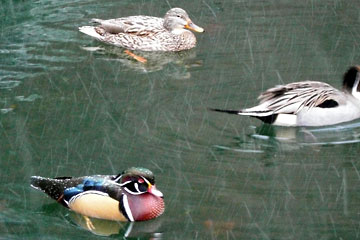 Over at the Cleveland Museum of Natural History we found cute fuzzy animal gifts for the littlest grandkids, nature-themed games, and even a book that the 12-year-old might not turn up his nose at.
OK, that one's a long shot. And we may have gone to the Tyrannosaurus Rex well one time too often for the younger boys, but I thought it was worth a shot. How can you go wrong with a six-foot dinosaur wall graphic?
When we finished shopping we walked out into the courtyard where ducks were swimming amidst lightly-falling snow. It was a picture-perfect winter scene.
Top | |