JUNE 2, 2010
Heading west
On my way to Lawrence, Kansas for the UCDA Design Education Summit. Amtrak's Capital Limited left Cleveland about 3:45 a.m. and got to Chicago about 10 a.m., giving me plenty of time for a walk down Adams to the Art Institute.
Old friends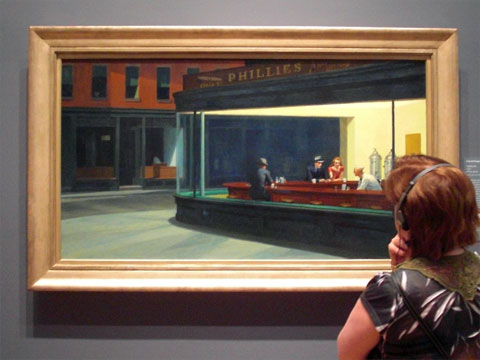 I visited many of my old friends, including Edward Hopper's Nighthawks.
Also stopped to appreciate Georgia O'Keefe's Sky Above Clouds IV.
In one of those uniquely internet moments, as I type this I'm downloading Tom Waits' Nighthawks at the Diner album, long ago one of my favorites on vinyl. Thinking about the Hopper painting reminded me of the album, which I'll be listening to when the download finishes.
Thanks, Sir Tim Berners-Lee.
New digs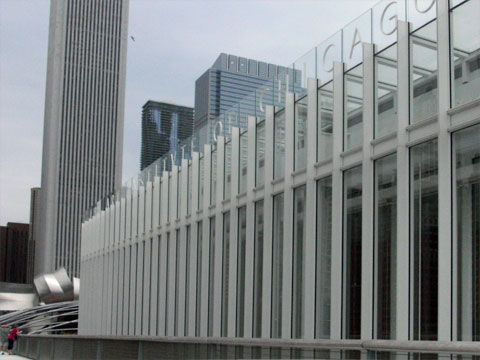 This was my first opportunity to go inside the Institute's new Modern Wing designed by Renzo Piano.
My impression: it's modern but not particularly inspiring. Very white, very linear.
The building uses a lot of energy-conserving systems to minimize its environmental impact.
From a "green" perspective the structure is impressive, certified LEED Silver, no small accomplishment. As a space to enjoy artwork, it's airy and spacious, but somewhat cold and antiseptic.
The Obama look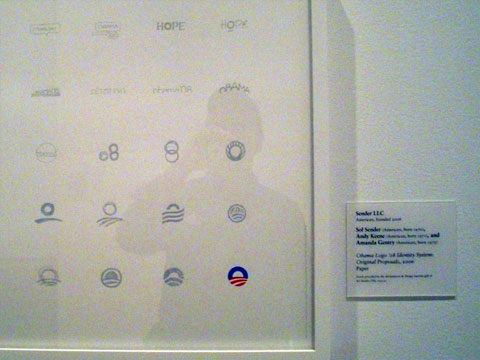 I loved seeing preliminary sketches for the hugely successful Obama logo on display in the Art Institute's Architecture and Design gallery.
The sketches by Sol Sender and his associates Andy Keene and Amanda Gentry show the typical visual explorations a designer does.
It's picking the right one to go with that makes all the difference.
In the photo my reflection gets a cap with one of the unused logo ideas.
[ More on the Obama logo and graphic look: Campaign Graphics Smackdown ]
Across the Mississippi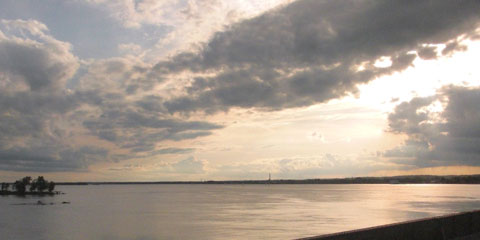 View from the lounge car on Amtrak's Southwest Limited, around 7 p.m.
Lawrence, Kansas is six hours farther west.
Top | |