APRIL 29, 2010
Fresh, local food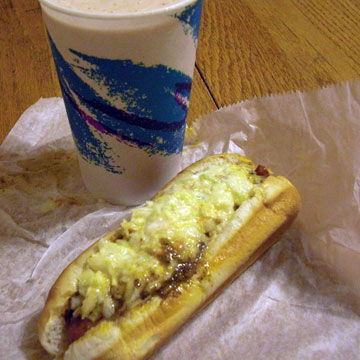 You got it: a slaw dog from Old Fashion Hot Dogs on Lorain at 41st and a chocolate shake from Dairy Delite on Bridge Avenue. Fresh and local.
With food being the topic of several projects in Interactive Media class, hot dogs have been on my mind for weeks. Today I had to stay late at school and knew that Joanne would be gone when I got home. The perfect time for a stop at the hot dog joint I pass every day.
Sad to say, I'm going to probably abandon Old Fashion next time and drive twenty blocks further to the Happy Dog. At $5, the Dog's dog is a lot bigger and tastier than the $2.25 one you see here.
The frou-frou vodka slaw and smoked Gouda cheese is arguably better but doesn't seem as appropriate as the creamy coleslaw with shredded cheddar buried under it. And the cinnamon-y chili here is still my favorite. But for overall value and flavor the upscale dog will probably make me more happy next time.
When I last sampled a slaw dog in December I was still skeptical about the new kid on the block, but I guess I've become a Happy Dog convert.
Top | |