FEBRUARY 23, 2010
Web Standards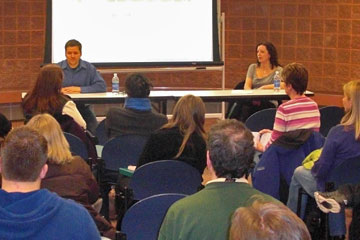 Today was the second of four Web Work / Web Wisdom events at Tri-C West this semester. The series brings together experts on various aspects of web design, development and marketing to talk with a diverse group of professionals, faculty and students.
Tonight's topic: Web Standards...What's In It For Me?
---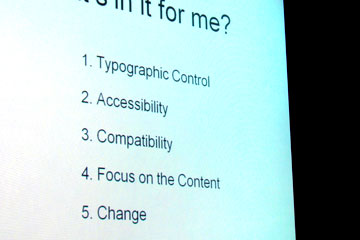 Craig Minch, owner of Minch Design, talked about why Web Standards have become guiding principles in his work. Things that he appreciates are shown at right.
Patricia Ross, Vice-President of SCK Design offered another perspective, explaining the advantages that Web Standards offer her company and her clients.
An audience of thirty listened thoughtfully, got into a lively Q&A session, and lingered afterwards over coffee and pastries.
More highlights, including Craig's slides, resources suggested by both Craig and Patricia, and more will be available on the nearly-ready-to-launch WebWorkWebWisdom site. Stay tuned.
Top | |