DECEMBER 28, 2009
Special crepe...sort of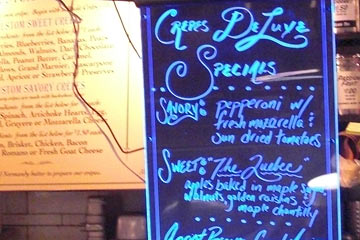 I've walked by the Crepes DeLuxe stand at the West Side Market hundreds of times since a disappointing visit years back. Today, though, I couldn't resist the siren song of "The Quebec: Apples baked in maple syrup, walnuts, golden raisins & maple chantilly."
I ordered it, ate it, and was disappointed again.
Maybe it's not fair to compare a Cleveland crepe with one purchased on the streets of Paris, or our chantilly with the creamy cloud on a waffle in Brussels, but I'm going to. In fact, the comparison highlights an unfortunate tendency we Americans have, to take a good thing and do it routinely. Our "specials" are often ordinary, while in Europe the ordinary frequently is special.
When our guy spread the batter on the hot plate using a wooden spatula his motions were quick and functional, unlike the graceful concentration I remember from the Parisian street vendor. A small point, perhaps, but it's the small details that make the difference. In Paris it's butter sizzling on the hot steel, here (I'm guessing) vegetable oil. The finished crepe should be a little sweet and tender, but mine was plain and chewy.
And the maple chantilly? I had to ask for it, then got a quick shot of Reddi-Wip type spray from a can, no evidence of maple to be found.
So, was it bad? No. Was it special? Unfortunately not.
Top | |