DECEMBER 13, 2009
Last treat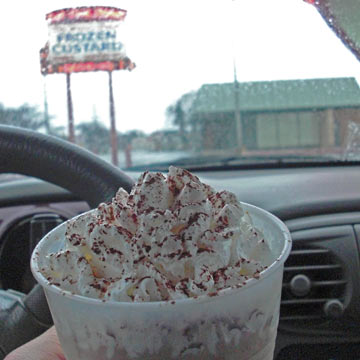 It's over.
Fall has officially ended now that East Coast Custard is closed for the season. I took the long way home from mom's place today to have just one more treat, this time a splurge.
Instead of my usual single cone I got a Cafe Mocha Shake (chocolate & coffee flavor). I toyed briefly with asking them to leave off the whipped cream, but why?
Since a half cup of custard alone is 220 calories, we're looking at probably a thousand or more in this glass. But it sure was good.
After yesterday's noodledogs and last week's slaw dog, my nutritional choices have gone downhill since earlier in the year.
Tomorrow I'll have a salad.
Top | |