MARCH 23, 2010
Morning, noon and night
Film
My day started early at the Cleveland International Film Festival. This time I wasn't a spectator, but a volunteer, introducing films to high schools students coming to the Film Slam.
Tri-C is a major supporter of this effort to get students involved in watching, thinking about, and maybe making films, so we do a quick sales pitch at the start of each film.
I stayed to watch a few of the short films, but wasn't impressed. Plus I had other things to do.
Philosophy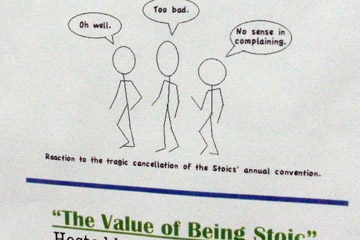 I'm not all that interested in philosophy, but a poster for an upcoming meeting of Tri-C's Philosophy Club caught my eye.
A little humor goes a long way. In this case, it makes me almost want to attend the lecture on "The Value of Being Stoic."
Almost.
Usability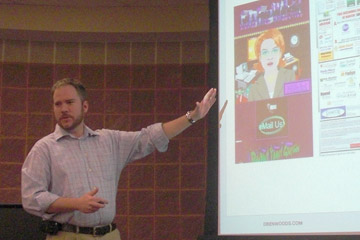 Ben Woods, Senior Designer at Eaton Corp., makes a point about the current state of web design during a talk about Web Usability.
This was the third in a series of discussions I've been coordinating called Web Work / Web Wisdom.
You can get a taste of this and other events in the series by clicking on the link above. The next meeting, on April 27th, is You Can Do It! Starting a (Web) Business.
Top | |