DECEMBER 27, 2009
Put down that burger before someone gets hurt!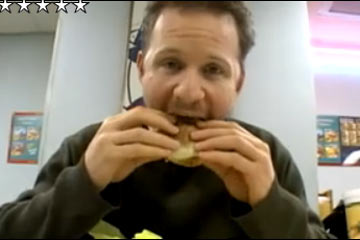 Seems like picking on fast food for its nutritional value is kind of like picking on the nerdy kid with glasses in grade school: not much of a fight.
In this case, though, the nerdy kid is actually McDonald's, the world's largest fast-food chain with 31,000 restaurants from Algeria to Zimbabwe. Since fast food has been blamed for the huge increase in obesity in the U.S. and elsewhere, I'm not feeling sympathetic.
Morgan Spurlock, who directed and starred in the film SuperSize Me, tried loving Mickey D's to death...almost literally. He ate only McDonald's food for 30 days, gaining 24 pounds, raising his cholesterol 45 points, and causing serious problems with his liver. None of the three doctors he consulted before starting the diet expected any thing beyond minor changes in his weight and blood chemistry.
This all makes for a pretty interesting movie, as Spurlock travels the country to sample McDonald's beyond the three in his Manhattan neighborhood. He eats a whole lot, but only supersizes when asked. Surprisingly this happened only nine times (out of 270 meals). Still, consuming 5000 calories a day, mostly sugar, fat and carbs, doesn't add up to a healthy diet.
As scientific research SuperSize Me is questionable, at best. Wikipedia offers an assortment of critiques and alternative experiments if you're interested. But watching Spurlock put himself through his four-week burger binge is a witty but sobering look at how we eat in America.
We got the movie via Netflix. I was pleasantly surprised to find a site called freedocumentaries.org that offers it as a free download. Unfortunately it didn't play on my Mac using either Firefox or Safari. Not sure why. Maybe you'll have better luck.
Top | |