JANUARY 13, 2010
On the board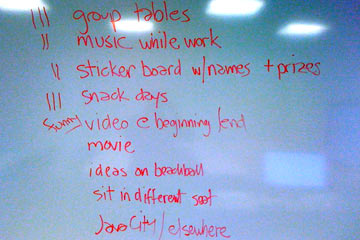 In the continuing tale written on the whiteboard, today we have ideas on how to make the classroom atmosphere more fun, more relaxed when it's time to generate ideas.
These ideas are pretty tame. It may take this more pragmatic group a bit longer to get untracked. Last semester the list included a piñata, eating sushi and squirrel-chasing.
See the wisdom of the whiteboard from Monday and Tuesday.
Top | |