MAY 31, 2010
Layer by layer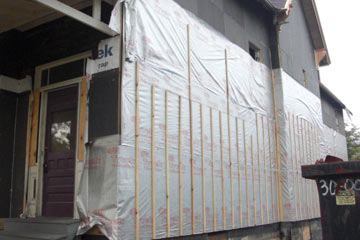 The house next door is undergoing a monumental rehab. After being stripped down to the framing and exterior sheathing, we're now watching the exterior develop layer by layer.
The black material is a two-inch layer of rigid foam applied over the sheathing earlier this month. The silver housewrap adds more insulation via an air gap, about an inch thick, that will be created when siding is attached to the narrow wood strips.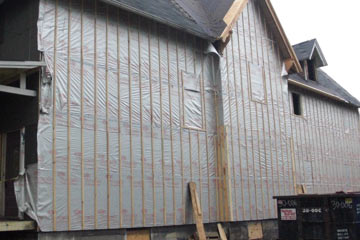 They put a continuous layer of housewrap over the entire surface to eliminate all air leaks. You can see several places where openings will be cut for windows.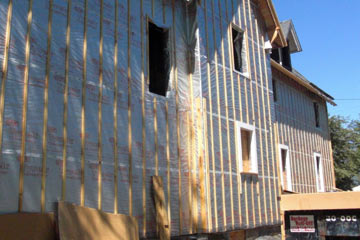 Here the window framing and exterior trim is being added. The first floor openings are completely trimmed out, ready for new windows that will be inserted from the inside.
It's great fun watching this ambitious process moving forward. I'm really happy, though, that I'm neither responsible for doing it or paying the bill.
Top | |