DECEMBER 6, 2009
Scientific spam?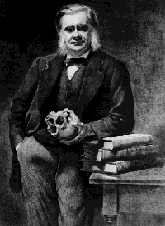 My computer's spam filters have gotten pretty good. It's been a long time since I've gotten an offer to enlarge my mortgage or refinance my penis. Today, though, a couple of odd emails slipped through the Tri-C filters.
Like this one with the subject line "t in a dilettante":
"Natural History" was used at the time I am now speaking of has, to a certain extent, endured to the present day. There are now in existence in some of our northern universities, chairs of "Civil and Natural History," in which "Natural History" is used to indicate exactly what Hobbes and Bacon meant by that term. The unhappy incumbent of the chair of Natural History is, or was, supposed to cover the whole ground of geology, mineralogy, and zoology, perhaps even botany, in his lectures. But as science made the marvellous progress which it did make at the latter end of the last and the beginning of the present century, thinking men began to discern that under this title of "Natural History" there were included very heterogeneous constituents--that, for example, geology and mineralogy were, in many respects, widely different from bota
A quick Google of a sentence or two from this led me to an essay titled "On the Study of Biology" written in 1876 by T.H. Huxley, President of the Royal Society. He was a defender of Darwin's theory of evolution, earning him the nickname "Darwin's bulldog."
I'm OK with Darwin, not sure what Huxley's trying to sell me today.
Top | |