FEBRUARY 20, 2010
Give up fish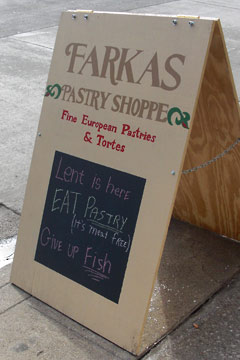 It's been a whole lot of years since I gave up anything for Lent, but I have to say that this sounds like good advice to me.
We were walking back from the West Side Market with our friends John and Jean from Dayton. I thought that a quick stop to pick up dessert was worth a detour down Lorain Avenue.
Yes, we've been eating way too much good food these past two days, one of the things we do when we get together, but still. The pastry from Farkas is worth it. We bought just a few pieces to sample after supper.
Back at the house we made brunch: homefries, bacon, eggs, shrimp, miscellaneous salads and bread. After an hour or two to digest it was off to the Museum of Art for a quick tour of the new East Galleries. A special attraction was the huge triptych by Damien Hirst, "painted" with butterfly wings.
On the way home we stopped in at Momocho to sample their exotic margaritas. The four of us tried Blood Orange, Cucumber, Pomegranate and Pineapple. This got us in a good mood to go back and have supper, two kinds of ravioli from Ohio City Pasta, Roasted Eggplant and Butternut Squash. I made a tomato sauces with fresh-snipped basil and a garlic-mushroom sauce using Oyster mushroom from the market. Later—much later—dessert.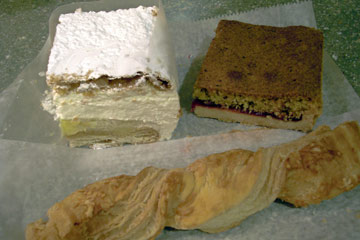 In the picture, the twist in the front is a crisp, flaky, butter pastry, good with coffee. Above it on the right is a raspberry hazelnut linzer.
Top left is of course the fabulously decadent Napoleon, a layer of vanilla custard topped with a thick swath of whipped cream, sandwiched between two layers of puff pastry. It's impossible to eat without making a gooey mess, but without a doubt worth it.
Top | |