MARCH 3, 2010
High energy feedback
The Portfolio Preparation class Mini-Review at Tri-C Western Campus is always a highlight of the semester.
At six o'clock the students are tense, sweating bullets, wondering if they can do this.
Two hours later they are swapping stories and saying "That wasn't so bad," or more often than not, "That was fun!"
So again, thanks to the generosity of a group of web and graphic design professionals, our students have learned a lot about their work, themselves, and the design industry in Cleveland. This year we'd like to thank:
Angela Berlingeri, Tri-C; John Katila, DigiKnow.com; Maya Lindenmuth*, Rosetta.com; Nadine Miranda, NM Design; Johnny Moulagiannis*, Triad Communications; Don Pavlish, PavlishGroup.com; Tanya Perez*, Blue-Robot.com; Nick Peters*, Triad Communications; Sharon Strebig, American Greetings.

*Tri-C grad
---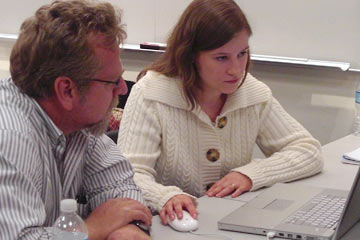 Nadia Ryzhkova, an Interactive Media student, shows her website design to John Katila of Digiknow.
---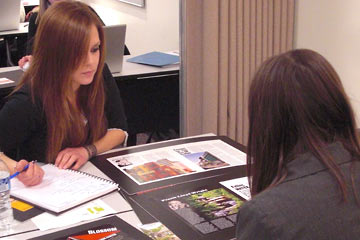 Graphic Design student Jen Palumbo takes notes as Maya Lindenmuth, Rosetta, Inc. looks over her magazine layouts.
---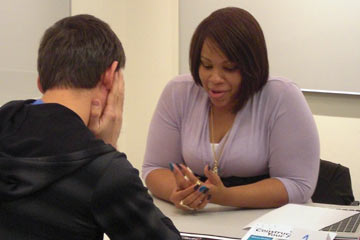 Takisha Jackson discusses a career in Graphic Design with Nicholas Peters of Triad Communications.
---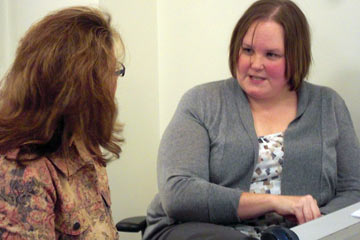 Sarah Morgenstein, Interactive Media, explains her approach to website design with Sharon Strebig of American Greetings.
---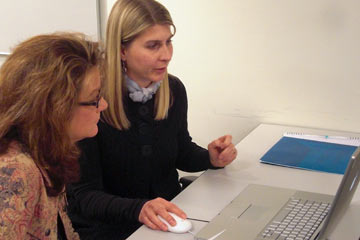 Jan Omacht, another Interactive Media student, talks with Sharon Strebig about her recent website projects.
---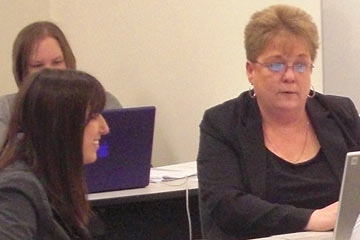 Rocki Haire, with a strong background in print production, shows Maya Lindenmuth of Rosetta, Inc., her new work in web design.
More
Portfolio Class Mini-Review—March 5, 2008
Student Portfolio Mini-Review—March 19, 2007
Top | |