JANUARY 15, 2010
Feasting in the U.S.A.
It was the end of a long day and I was checking my email before leaving the office. The one from Marco's Pizza caught my eye.
I had no clue as to what was in the refrigerator and didn't feel much like cooking, so this seemed like a pretty great idea. I'd stop on the way home and surprise Joanne with a nice dinner. A feast really.
Then I clicked the link in the email to see what was on the menu.
Pretty scary when the only green ingredient is Mountain Dew. I thought that there would be at least a token salad included in the feast.
Nope. We'd be feasting on bread and cheese, bread, cheese and pepperoni, and washing it all down with caffeine and high fructose corn syrup. Still wonder why Americans are overweight?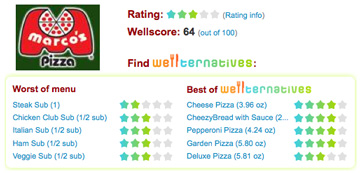 Oddly enough, when I checked online to see the nutritional info on the Marco's menu, this combination wasn't the worse choice.
CalorieCount gives both pepperoni pizza and the breadsticks a grade of C-, yet Wellsphere lists them as the best alternatives on the Marco's menu. And don't forget that these calories counts are based on eating just one slice of pizza and two breadsticks. How likely is that?
In case you're wondering, I drove past Marco's that night and was pleasantly surprised to find that Joanne had her own feast ready when I got home. Roasted sweet potatoes, with chicken and veggie sausage, onion, and a salad. Much better.
Top | |