MARCH 28, 2010
Sunday
Last film
A fitting wrap-up to the week, the last film I saw at the Cleveland International Film Festival was The Last Truck, a documentary about the closing of the huge GM truck assembly plant near Dayton, Ohio. It was powerful, moving—people around me were wiping tears away throughout the film.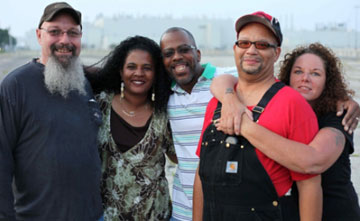 If you're wary of documentaries that take on social issues, maybe afraid you'll be beaten over the head with a "message," tired of Michael Moore's entertaining but heavy-handed attacks, see The Last Truck anyway. It's none of the above.
It's a story of people whose lives are torn apart by something completely out of their control. But they are good people. You'll like them. You should meet them, and you can. It will make you sad and angry, frustrated and hopeful at the same time.
SUMMARY
Monday, Mar. 22
Cleveland International Film Festival (CIFF) started last week. I tried to see as many movies as possible, starting with 9000 Needles on Friday, Bomber on Saturday, and Journey From Zanskar on Sunday.
More...
Tuesday, Mar. 23
Busy day: more from CIFF, a little philosophical humor at Tri-C, Web Usability discussion in the evening.
More...
Wednesday, Mar. 24
Activity on the Student Portfolio Show (May 5th) starts in earnest. Groups divide up the work, put deadlines on the calendar.
More...
Thursday, Mar. 25
I saw Louder Than A Bomb, a film about high school poets, in an auditorium full of Cleveland high school students. They're a tough audience, and they loved it. Made my day.
More...
Friday, Mar. 26
More movies at CIFF: First Voice Ohio and Convention. One a look at regional musicians, the other, behind the scenes at the 2008 Democratic National Convention in Denver. Both enjoyable.
More...
Saturday, Mar. 27
Strange, and strangely human stories, one real (sort of), one fictional (in a way). From the CIFF, of course: Marwencol and The Taqwacores.
More...
Top | |