DECEMBER 3, 2009
Slaw dog, the real deal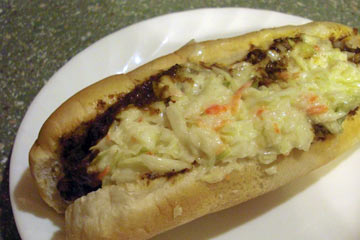 This is it, the classic slaw dog from Old Fashion Hot Dogs on Lorain Avenue. Driving home from school last night I realized that 1) Joanne wouldn't be home and 2) I'd already eaten all the leftovers in the fridge. Perfect occasion to stop for a slaw dog.
Like a glazed donut or a bacon cheeseburger, there's no possible nutritional justification for a slaw dog. You eat one because it tastes good (best with no witnesses around).
I asked for one of the well-done dogs with a browned skin, probably a bad decision. The dog was too dry. The slaw this time was almost healthy, or at least it tasted of cabbage. I like it better when it's sweet and creamy with almost no vegetable flavor.
Despite its shortcomings this was a pretty decent slaw dog. The cool slaw contrasted with the warm spicy chili and hot dog as it should. If the hot dog wasn't as tasty as the one from the Happy Dog a few weeks ago, the $3 price difference offset it.
More challengers
In search of the perfect slaw dog—August 9, 2009
PIcnic + slaw dog—June 11, 2008
Chile dog with slaw—April 23, 2008
Top | |