MARCH 13, 2010
New old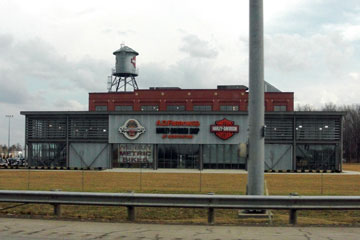 Driving back to Cleveland yesterday I passed this Harley Davidson showroom that looked a lot like an old factory. Complete with red brick walls and a water tank on the roof it could be a building you'd find in the heart of any Ohio town.
Except that the A.D. Farrow Harley Davidson Shop was recently built along Interstate 71 next to a Burger King and a Speedway Fuel Center.
This totally contrived architecture is supposed to make us think of an authentic American institution. Like Crocker Park and Legacy Village, two Cleveland-area "lifestyle centers" that simulate downtowns in suburbs with none, this is a Disneyland approach to shopping.
Hundreds, thousands of actual American cities small and large desperately need people to come and shop in them, but that's not how it works. We prefer to take the visual trappings of a city out of their messy human environment and recreate them in the middle of a big parking lot. How convenient.
Top | |