JANUARY 16, 2010
A night at Happy Days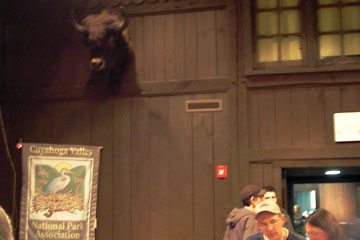 After supper at Fisher's Pub in Peninsula we went to a concert at the Cuyahoga Valley National Park's Happy Days Lodge.
The inside of the Depression-era building reminds me of El Tovar Hotel at the Grand Canyon. A modest, scaled-down, Midwestern version at least. Instead of El Tovar's logs and elk heads there are flat planks and a buffalo, but you get the idea.
Happy Days was built in 1937-38 by the CCC (Civilian Conservation Corps). Its rustic, unglamorous look fits the hard times in which it was built. El Tovar has a different history.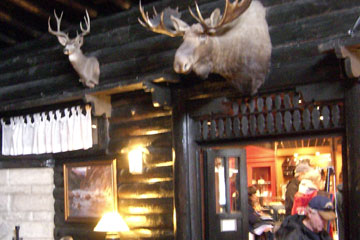 El Tovar opened in 1905 as an upscale Fred Harvey hotel during the glory years of the Atchison, Topeka and Santa Fe Railway (Santa Fe). Among its celebrity guests were President Franklin Roosevelt and scientist Albert Einstein.
Joanne and I were among its least-famous guests when we visited the Grand Canyon last April. We weren't impressed.
The location is fabulous: thirty yards from the edge of the Canyon. The room, service, and everything else were less than fabulous.
More about El Tovar in the "Where to stay" section of From the Cuyahoga to the Colorado.
Top | |