JANUARY 10, 2010
Sunday summary
A new feature on Sunday is a review of the previous week, in case you missed anything. Don't worry, though, if anything super-cool happens on Sunday I'll include it too. This Sunday I'm getting ready for the start of a new semester tomorrow, so it's been a day of mostly work.
Sunday, Jan. 3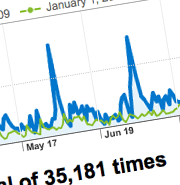 Top Ten for 2009: what was hot, what wasn't at The View From 32. The unexpected staying power of those dang smiley faces. Compared with 2008, more visitors, but for less time. Is this a good thing? More...
Monday, Jan. 4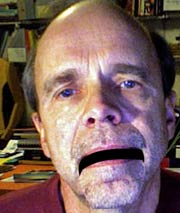 Found a great website with links to 50+ online storytelling tools. Interesting for all, a must-see for anyone teaching digital storytelling. Amidst all the cool stuff I found a silly site called Blabberize that lets you create an animated video of you, your dog, frog or cat talking. Of course I had to try it. More...
Tuesday, Jan. 5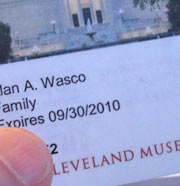 We all know about bad customer service, we've learned the hard way. I'm very happy to share my tale of losing expensive concert tickets and having them replaced with no muss, no fuss by the Cleveland Museum of Art. More...
Wednesday, Jan. 6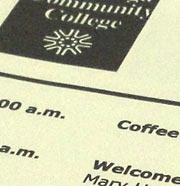 Here we go again. At the start of each semester the college makes all of its faculty endure—I mean attend—several days of meetings. Today was the first for Spring semester. Was it a complete pain in the ass this year? More...
Thursday, Jan. 7
Today's meetings were better: an all-day Faculty Colloquium where we share ideas on what we do in and out of class. I went to one on E-portfolios and another on using technology to work with students online. More...
Friday, Jan. 8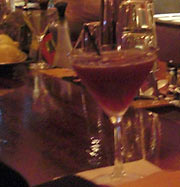 An interesting Friday night: Gamelan Galak Tika concert followed by a visit to the pricey, classy Velvet Tango Room. The concert was a bit disappointing, but the VTR lived up to its reputation for great cocktails. More...
Saturday, Jan. 9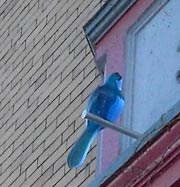 Sunshine! Gotta love it on a 20-degree January day. We walked around the neighborhood in the hour or so just before sunset and spotted one of the Edgewater HIll Blue Birds. More...
Top | |