FEBRUARY 17, 2010
Dueling concepts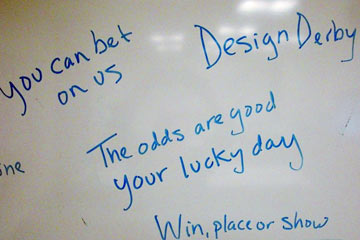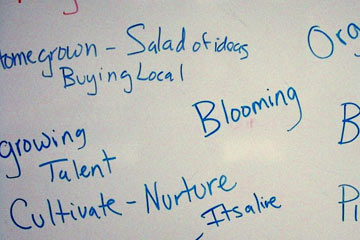 It's that time again. Time to create a theme for this year's Portfolio Preparation class show in May.
Tonight we had a great time doing various relaxation and idea-enhancing exercises with Becky Cummings, whose website name Create Collaborate Connect says exactly what I hoped we could do as a class.
After writing, stretching, drawing, writing some more, and making sculptures of our bodies we began brainstorming ideas for a theme.
The ideas didn't flow as fast and furiously as I'd hoped, but after about twenty minutes we'd sort of focused around two concepts: betting/winning and growing/blooming.
The last time I did this we narrowed the field to four phrases, finally deciding on The Grass Is Greener Here.
We're still pondering this year's concept, so if you like anything you see here, or have another suggestion for how to present this year's crop of Design students, we'd love your input.
Click the COMMENTS link below to talk to us.
Top | |