APRIL 2, 2010
Symbols have meaning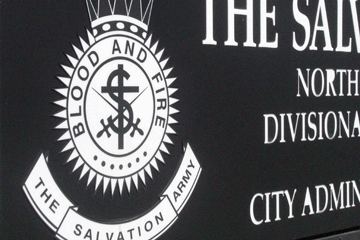 Walking by the downtown headquarters of the Salvation Army I was struck by the crest on the outdoor sign. "Blood and Fire"? Swords?
I'll admit, my impression of the Salvation Army is a bunch of good folks who feed the poor, help out in natural disasters, and of course ring bells alongside of red kettles at Christmas time.
So what's up with the violent symbols?
The explanation below is from a Salvation Army website:
---
The meaning of the crest:
The cross: The cross of the Lord Jesus Christ
The "S": Salvation from sin through Jesus
The ray on the outside of the circle: The Fire of the Holy Spirit
The dots: The Truths of the Gospel
The swords: The Salvation War *
The crown: The crown of Eternal Life
"Blood and Fire": The Blood which was shed by Jesus for our sins and the Fire of the Holy Spirit
* The Salvation War is not a war by force of arms. The weapons of the Salvationists are not guns and bombs but rather the Bible, prayer and practical love to others.
Well, maybe
The disclaimer above points out that they're not talking about guns and bombs, but I'm uneasy with the whole idea of "Salvation War." In an era of "Christian militias" planning a war with the Antichrist and young men cage-fighting for Jesus these words and symbols can easily be taken beyond what the Salvation Army intends. Especially by people who see President Obama as "A puppet for the Anti-Christ." Scarey stuff.
Symbols have meaning. They help shape our view of the world, for good or ill. The last thing we need is more use of militaristic, violent words and images in service of religion.
Top | |