JANUARY 19, 2010
Now that's a sandwich!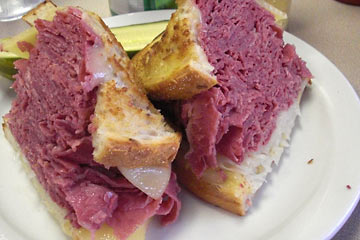 A Slyman's Reuben sandwich, to be exact. More corned beef than you can possibly fit into your mouth in one bite, swiss cheese and sauerkraut on grilled rye bread.
I'm ashamed to admit it, but George Bush ate at Slyman's before I—a born & raised Clevelander—did.
Is it the best?
I was shamed into going there by reading reviews at Yelp.com. Comments like "an uber-tasty sandwich," "I had a life changing experience today..... I just had THE BEST corned beef ever," and "Hands down best corned beef in the country, someone prove me wrong" made me realize I had to see (taste) for myself.
Joanne & I walked there and back yesterday, a good counterbalance to the gigantic pile of corned beef Slyman's calls a sandwich. We sat at a tiny table for two, elbow to elbow with other diners, including another Clevelander who was also a Slyman's virgin. We shared the same friendly 28-year veteran waitress who hustled our sandwiches to the table along with extra napkins and later a paper bag I used to take half home with me.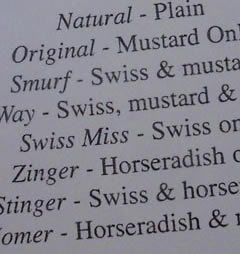 Was it a life-changing experience? The BEST corned beef ever? Probably not. The meat was amazingly tender but not as flavorful as corned beef I've had in the past.
I loved the atmosphere, though, including the formica tables, lively waitresses and the take-out orders shouted at the counter: "That's two originals, a natural, two smurfs and a special K!"
I'm ready to go back for another sample, though, anytime. Out of the corner of my eye I watched the woman next to me chow down on french fries with gravy, so I need to try that myself. And a corned beef sandwich, of course.

More
Best cocktails in town, Velvet Tango Room—Jan. 8, 2010
Best brunch in town, Lucky's Cafe—Feb. 3, 2008
Top | |