JUNE 4, 2010
Day 2, UCDA Design Education Summit, Lawrence, KS
Millennials again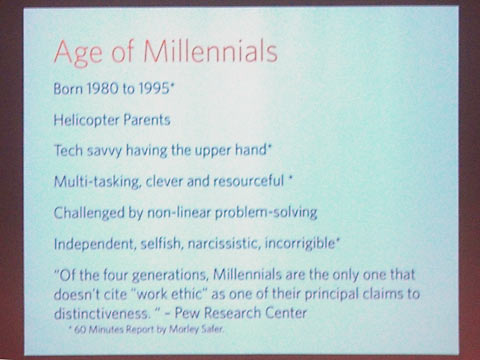 Students aged 18-24 are in the generation called the Millennials. This graphic from today's keynote presentation gives a typical list of their characteristics.
Much more information available on the Pew Research Center website.
You can get some insight into how you compare by taking the How Millennial Are You? quiz.
I figured I'd be somewhat Millennial-ish but boy was I wrong! My score was 13, just a couple notches above average for my Baby Boomer generation.
The survey includes a number of questions about how we use media, a topic I've been investigating via my own What's Your Media Diet online survey.
Looking up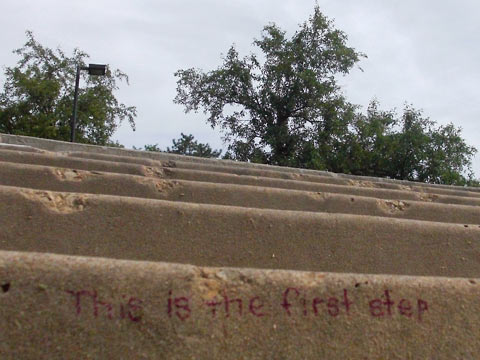 These words written at the bottom of stairs on the University of Kansas campus might be a philosophical reminder or a simple statement of fact. You be the judge.
Patterns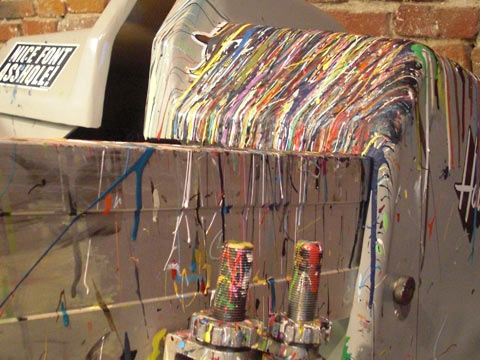 The multi-layered ink splatters on this T-shirt press are all the more interesting because they reveal something in the production process.
They're not random but clearly produced by something in the press operation itself.
Eat your heart out, Jackson Pollock.
Artistic and all natural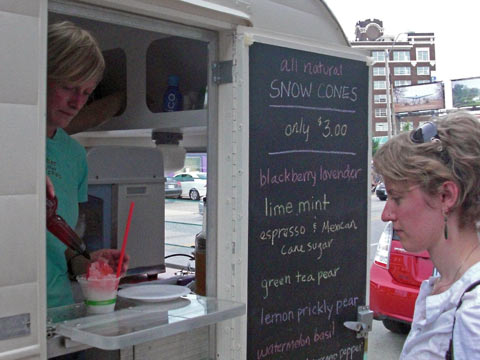 A recent graduate of UK's Graphic Design program has her own snow cone vending trailer.
My Sour Cherry/Almond was tasty and very welcome on the 90+ degree afternoon.
Watermelon/Basil and Blackberry Lavender sounded good too.
| |