Apps I love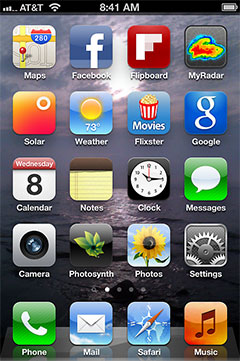 If you have a smartphone you have probably dozens of apps installed (a 2012 Nielsen survey put the average at 41). I'll bet, though, that you used maybe a half dozen of them regularly.
Yesterday I rearranged my iPhone home screen to reflect the apps I use the most or want to have quickest access to. So at top left is Maps, easy to click on if I'm lost. Bottom left is Camera.
Next to it, Photosynth is a free panorama creator from Microsoft that's easy to use and lots of fun. Sample panos: Lake Erie, University Circle, Ohio & Erie Canal (scroll to bottom).
Back to the top row: Facebook is there because, well, I spend (way too much) time on FB. The app doesn't let you do everything that the website does, and is kind of janky, but still is quicker and easier than going to the full website.
The news is addictive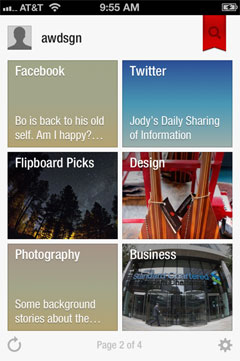 Flipboard. How to best describe my favorite news-social media app? The folks who make it say it's a "social magazine". To start you pick the news, information and social media sites that interest you and Flipboard then constantly updates with new articles.
It's similar to Google News, but with a beautiful and to me, addictive personality. You simply swipe the screen to move from item to item, then tap to read an entire article. I love the overall experience.
The weather is beautiful
You may know from the design of TheViewFrom32 that I'm fascinated by weather. I was happy with the standard Weather app on my phone until I discovered Solar, a simply beautiful app that gives much the same information but in a gorgeous, fluid way.
Solar is one of a newish wave of apps that don't overwhelm you with options but do one thing beautifully. Quality rather than quantity.
You can see here how Solar uses color to show temperature at the bottom and overall conditions at the top. Simple, elegant typography gives details.
A couple of things you can see in a still image: when you slide your finger up the screen the colors and text change to give you an hour by hour forecast for the next 24. Slide your finger down and a three-day forecast appears at the top (mouse over image at right to see this).
BTW, Solar costs a buck and is worth it, if beauty is as important to you as information.
---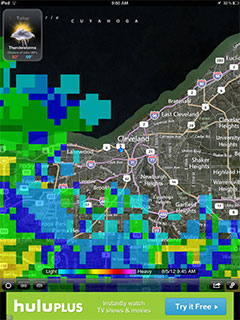 Is it gonna rain? You can get all the forecasts you want, beautiful or ugly, but there's nothing better than checking live weather radar. MyRadar does that very well.
Get the free version if you don't mind seeing advertising with your weather. Then fire it up and watch storms approach (or not). A 30-minute animation cycle shows the path and speed of the approaching weather so you know whether to take an umbrella.
As we waited for the Fourth of July fireworks in Hudson last month I knew that the rain would start just about the same time the fireworks did. We got soaked anyway.
Next?
And then there's Lapka.
Top of page |