Give & take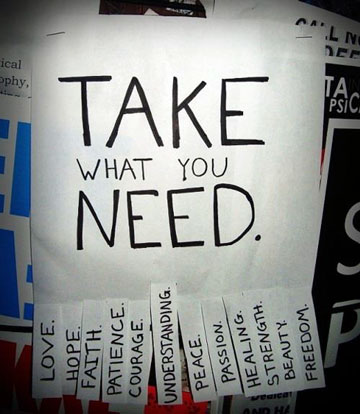 Saw this image on Facebook and I loved it. Apparently I'm not alone, as you can see from this collection of Take What You Need signs.
I'm still trying to figure out why I like it so much. It's pretty superficial, truth be told.
Let's face it. Actually gaining courage, understanding, strength or freedom is a lot harder than tearing off a piece of paper. But still...
The word that keeps popping into my head is "generosity." Simply sharing the words via a flyer on a bulletin board is a tiny act, but not trivial. Like a smile, it's a bit of shared positive energy.
What makes it generous is that it's anonymous.
In a world where everything is a commodity and everyone is out to make a buck, this is a gift. No cost. No logo. No call to action.
Someday soon a church or yoga studio or health food store will print flyers like this and slap their phone number or web address on the back, and the magic will end. So for now, take what you need. Enjoy it.
Top of page |