Move out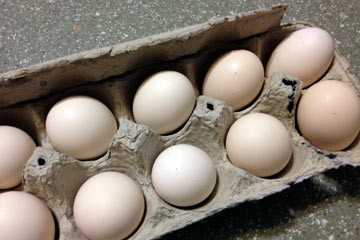 After doing some neglected house-cleaning and garden tidying chores, we're back on a normal Sunday schedule. Had a good visit with Mom and on the way back decided to stop at the place advertising "Fresh Eggs" that we pass on Columbia Road.
The eggs are much smaller than the "Jumbo" ones we get at the store, but we'll see how they compare flavor-wise.
It took me several minutes of door-knocking and doorbell-ringing to finally roust someone to the door to sell us a dozen for $2. If the eggs are good, this may become a regular part of our Sunday visit.
Top of page |