What Google tells me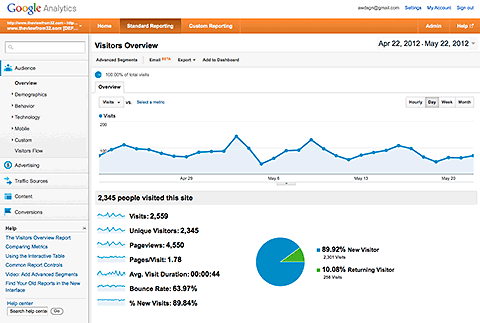 It's been a while since I talked about the wealth of information that Google Analytics gives me about activity on my website.
Back in June of 2007 I described how this free Google service tracks the number of visitors to your website, the time they spent, and quite a bit more.
Back then I was getting about 200 visitors per month. Fast-forward to May 2012 and the number has grown to 2400 visitors per month. That's the good news.
Unfortunately they're spending a lot less time on the site (average of 44 sec. vs. 2+ minutes in '07). As I try to puzzle meaning out of the pile of numbers available via Analytics, it seems that many of my new visitors are coming via an "image" search. Not surprising when they leave quickly after finding a picture of a chili-cheese dog.
But wait, there's more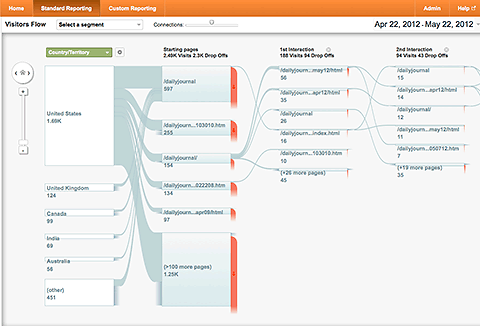 All of this information is pretty impressive, but in the last couple of years Google has upped the ante. You can see how visitors move through your site with Visitor Flow.
Moving left to right the chart shows the pages they visited. The orange vertical bars are those who leave the site at that point, a much higher number than I'd like, but at least partially explained by the image search numbers, which give me many more visitors but with only minimal interest in the site content.
Instant gratification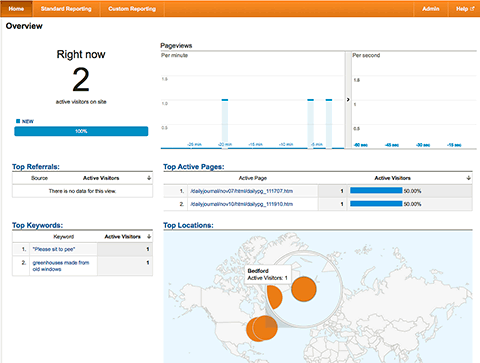 The latest addition to Analytics is really cool, a bit scarey, and often discouraging: Real-Time View.
It's very cool to see that right at this moment two people are visiting my site, one is from Bedford, MA and the other from Warner.
One searched for "Please sit to pee" and the other "greenhouse made from old windows." Each of them stayed for several minutes.
Watching this as it happens is great fun. What's discouraging is that on many random visits I've made to this view, the panel informed me: "Right now 0 active visitors on site."
The scarey part, of course, is how clearly this demonstrates the tracking that is done on how you and I and everyone else uses the Web. If I, an ordinary guy using a free service, can see this level of detail about who's visiting and what they're looking for, it's not hard to imagine that both corporations and government know a whole lot more.
Again, the peril and the promise of our always-connected world.
Top of page |