Raised bed, the sequel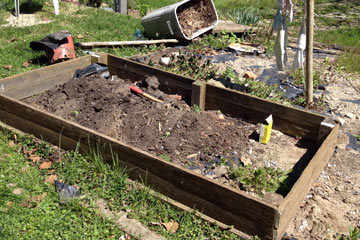 A few years ago I built my first raised bed planter in the garden. It was a failed experiment due to my choice of materials.
This year I'm trying again. Still unwilling to buy new lumber for the project, I'm re-using wooden pallets I scavenged from our neighbor's tree lawn.
The pallets had held lengths of siding, so were 24' long to start. I cut them to 12' to make them easier to handle, and now I've reworked them into 6' x 3' raised beds.
They're not glamorous but I think they'll do the trick. I finished two this weekend and may do a third. Problem is that the spiral nails used to build the pallets are difficult (to say the least) to pull out. I've surely spent more time disassembling the pallets than reassembling the pieces. As always, a two-hour project took half a day.
Top of page |