Trendy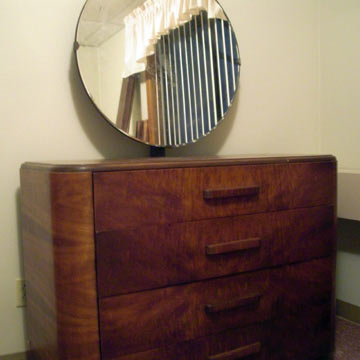 I remember it from Mom & Dad's room in our old Heath Avenue house. The sleek Art Moderne-style bedroom set must have been cool and trendy when they bought it. A most unlikely purchase for my very untrendy parents.
Now it's jammed into a stark 5x10 foot storage unit along with boxes and boxes of old photos, cards, sewing magazines and other remnants of Mom & Dad's good old days.
It's been a pain in the ass to move a lifetime's worth of their belongings from the Snow Village apartment to the smaller place at North Park Retirement Community, and now again to a smaller room at Kemper House.
Along with the pain in the ass, though, has come an ache in my heart. I'm watching my parents' lives slowly diminish right before my eyes. I'm helping it happen. Their world gets smaller and smaller as we sort through what to keep and what to give away or throw in the Dumpster.
Unfinished
Dad is gone. In some very real way I think he left his heart behind in the Snow Village apartment that for the longest time he refused to leave. Mom has done better, but the years are catching up to her. The latest move is proof of that.
Who's going to miss the half-finished paintings that she'll never finish? Who's going to use the yarn, and the spools of thread, and the tubes of paint? What about all the pictures of smiling great-grandchildren, meant to cheer her up?
The storage unit holds glaring evidence of the passage of time. It's visible in the mirror. It forces me to think about things I'd rather avoid.
Top of page |