Social media success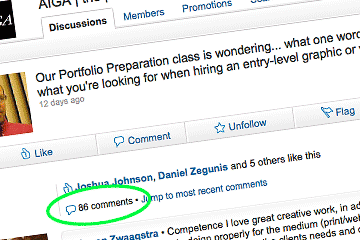 Marketing is all about social media these days: Facebook, Twitter, Pinterest, LinkedIn. Companies large and small have been told that they must use social media.
True enough.
But there's a huge difference between having a Facebook page or a Twitter account and having an effective social media strategy.
Setting up the account is easy. Using it to build relationships with customers/followers takes a lot of work.
Case study
I'm no social media expert, but I'd like to share the story of how a simple question became a modest social media success. Starting just two weeks ago, dozens of professionals and several students have weighed in with close to a hundred comments on a question I posted on the LinkedIn AIGA group. The discussion still continues: while writing this article I've gotten six email notifications of new comments.
The question was:
"Our Portfolio Preparation class is wondering... what one word best describes what you're looking for when hiring an entry-level graphic or web designer?"
The answers have been enlightening to me. My students have learned from them. Judging by what others have written, so have students and professionals from all over the country.
[ Go to discussion on LinkedIn ]
Here are a few rules of thumb based on this experience:
1) Ask the right question. A real question.
Sadly, many people post questions that are just thinly-disguised advertising for themselves or their company. They don't really want to know what you think, they want you to think about them.
2) Ask the right people.
The AIGA group on LinkedIn is large (43,000) and active. I know this because I've been a member for years and get regular emails about new and ongoing discussions. I also know that members are primarily professional designers, exactly the people our class wanted to hear from.
I didn't post this to one of the design educators' groups I belong to because I wanted to hear from the pros in the field, not academics like me.
3) Listen and respond.
I made a point of replying to each of the early responses with comments as well as a thank you.
For instance:
Thanks, Sharon, for your input. The idea of addressing client needs is something we emphasize but for students it's a whole new concept. Because we're a community college most of our students are extremely pragmatic (i.e., employability is their priority). We have to be careful not to over-emphasize technical skills and encourage them to dream sometimes.
Thank you is just common courtesy, but if it's a conversation you want, go further. Just like in real life, listen, respond and continue by adding a new thought.
The only downside to this part is that as the discussion has involved more and more people, the amount of time it takes to respond has gotten greater.
4) Expand the conversation.
As people have asked their own questions within the bigger discussion I've tried to follow their lead (unless the question was off-topic). A few of these have continued privately via Messages from individuals. Maybe not totally relevant to my original question but still interesting.
About a week ago I set up a LinkedIn poll to see what recommendations the group had for my students in choosing a physical container (box, portfolio case, etc.) for their work. It hasn't gotten nearly as many responses but has still been helpful.
[ Give your advice via a one-question poll ]
5) Network.
Whenever someone new jumps in with an interesting perspective I click to look at their profile. As in any real cocktail party, you can and should use the opportunity to network with people. This is, of course, the heart of social media. Embrace it.
So that's what works for me. I'd love to hear your ideas and suggestions for using social media effectively. Please post your thoughts below.
And thanks.
Top of page |