Whadja think?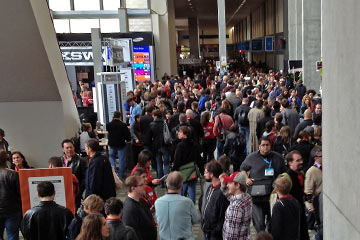 I've been to a lot of conferences in my life, but this was my first South By Southwest Interactive (SXSW). With 900 presentations, 2700 presenters and 26,000 attendees it was far bigger than any conference I've been to.
In fact it may be getting so big that it will collapse in on itself soon. People complained about huge lines for registration, popular sessions, and parties. But overall I was impressed with how well it was organized and run.
Hundreds of red-shirted volunteers were at every door, escalator and elevator entrance to give directions—essential in the huge Austin Convention Center. After five days I still hadn't figured out the logic to its floor/room numbering system, and I know I wasn't the only one.
The big takeaway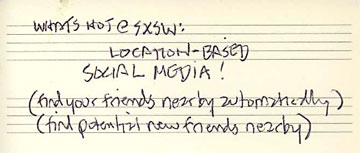 Not so much what I heard in the sessions (although there was plenty of talk about social media) but what was being hustled in the Trade Show and outside the Convention Center: location-based social media.
In other words, apps that track where you are and tell you when others with similar interests are nearby. Stay in touch with your friends and/or make new ones. One of the apps helped me make a new friend, but not in the way they'd planned.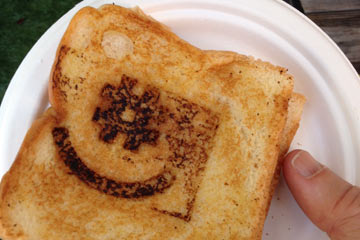 Every day you could get free food and beer by downloading one of many new location-based social media apps to your phone. It was barbecue beef one day, grilled cheese another.
While I was munching on my sandwich, a homeless man borrowed my phone to get past the guy at the door, handed it back, then got his own grilled cheese sandwich and beer.
Thank you, social media.
Panels & presentations
It wasn't all standing in line and drinking free beer. As with most conferences there were "tracks" or "themes" (but more of them) including:
Government and Global Issues
Culture, Science and Play
Journalism and Online Content
Health and Education
Branding and Marketing
Social Networks
Design and Development
Convergence
and still more
To make choosing even harder than usual, events were scattered across more than a dozen venues within about a mile of the Convention Center. Not having any specific goal or focus, I hopped from theme to theme. To make it simpler I tried to stay in or near the Convention Center.
Some favorites:
Change Happens: Improv for an Unpredictable World

Unstuck: Get (and Keep) Your Creativity Flowing

Teaching Touch: Tapworthy Touchscreen Design

A Crash Course in Becoming SuperBetter

Winning The Story Wars

Mother Goose Got Punked

101 Social Media Techniques for Non-Profits

Shut Up and Draw: A Non-Artist Way To Think Visually

CSS Demystified by Haakon Wium Lie

How Technology Is Killing (Or Saving) The Lecture
Top of page |