Sign of Spring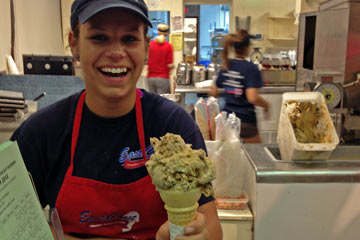 Sure the flowers are a tip-off, but the real sign that Spring is here comes in the form of a cone. From East Coast Custard. In this case, a single Jamocha Chocolate Chip.
To try to prevent excessive waistline expansion once ECC opens in early March, I only stop when one of my favorite flavors is the special of the day.
Jamocha Chocolate Chip is in my second tier, but still worth a few hundred calories on a warm Spring evening.
My two faves are Almond Joy (vanilla custard, chocolate chips, coconut) and Pearl Road Crunch (vanilla, chocolate chips, cashews). In the second tier are today's flavor, along with Bear Claw, Bailey's Irish Cream, and Pearl Road Crunch.
Top of page |