Zoo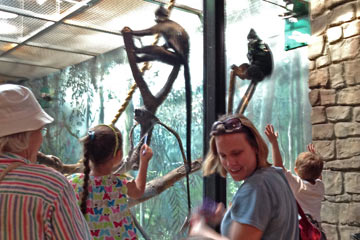 We spent a pleasant sunny afternoon with Sharon and most of our grandkids at the Cleveland Metroparks Zoo.
Here our little monkeys are watching a couple of furry ones on the other side of the glass.
As zoos go, Cleveland's is probably pretty good. Most of the newer exhibits are "natural" areas with no bars or cages. But there are still many, many animals in fairly confined spaces like these inside the enclosed Rainforest.
The recently-opened elephant exhibit gives the pachyderms much more space than the old one, but still they're roaming a vastly smaller area than they would in the wild. The flip side, of course, is that elephants are endangered as their natural habitat is destroyed and they are killed by hunters.
I guess the best way of looking at it is that zoos are better than they used to be but from the animals' perspective a necessary evil.
As I was writing this article I discovered a Wikipedia article describing our tradition of human zoos:
Exhibitions of exotic populations became popular in various countries in the 1870s. Human zoos could be found in Paris, Hamburg, Antwerp, Barcelona, London, Milan, New York, and Warsaw with 200,000 to 300,000 visitors attending each exhibition.
In 100+ years we've gotten rid of this tradition (mostly). In another 100 years maybe we won't be keeping animals in zoos either.
Top of page |